News
Welcome to the Alchemy blog, here is where we will be highlighting events and news from around the winery. This is your blog page, add intro text before through the content management tools or add blog posts through the blogging tools: Learn about adding/editing blog posts, or Learn about editing the text. This page could be repurposed for news only - which works pretty well.
January 22, 2019 |
David Eckert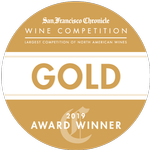 We are thrilled to announce that our 2017 Carignane was awarded BEST OF CLASS at the 2019 SF Chronicle Wine Competition! The 2017 Zinfandel & 2017 Chardonnay were awarded GOLD MEDALS as well.
September 23, 2018 |
David Eckert

I am honored to announce that our 2017 Chardonnay was recently awarded Best of Class at the Sonoma County Harvest Fair!
This prestigious competition is limited to Sonoma County wines and is the largest regional wine competition in the United States. Just over 1,000 wines were entered into the competition, with only 35 wines chosen as Best of Class.
The wine judges come to Sonoma County from around the nation, and in some cases, travel from other countries. The blind tastings are carefully controlled, to assure a fair and accurate outcome.
-David Eckert
Owner/ Winemaker/ Grower